The city of Tanba-Sasayama, located in the central eastern part of Hyogo Prefecture, has prospered since ancient times as a transportation hub to Kyoto. Walking through the streets of the castle town, with Sasayama Castle at the heart of it, one can still feel the influence of Kyoto lingering in many places.
With bustling cities like Kobe, Osaka, and Kyoto only 90 minutes away, many people visited Tanba-Sasayama to enjoy the rich and varied food. However, after the bursting of the bubble economy and the Great Hanshin-Awaji Earthquake, visitors also slowly declined.
It was also in this city that a type of ceramic called "Ojiyama-yaki" was created during the Edo period. The records of the kiln show a long gap in its chronology: it disappeared in 1869, but mysteriously reappeared in 1988. How exactly did the kiln, which had been out of action for over 100 years, start up again?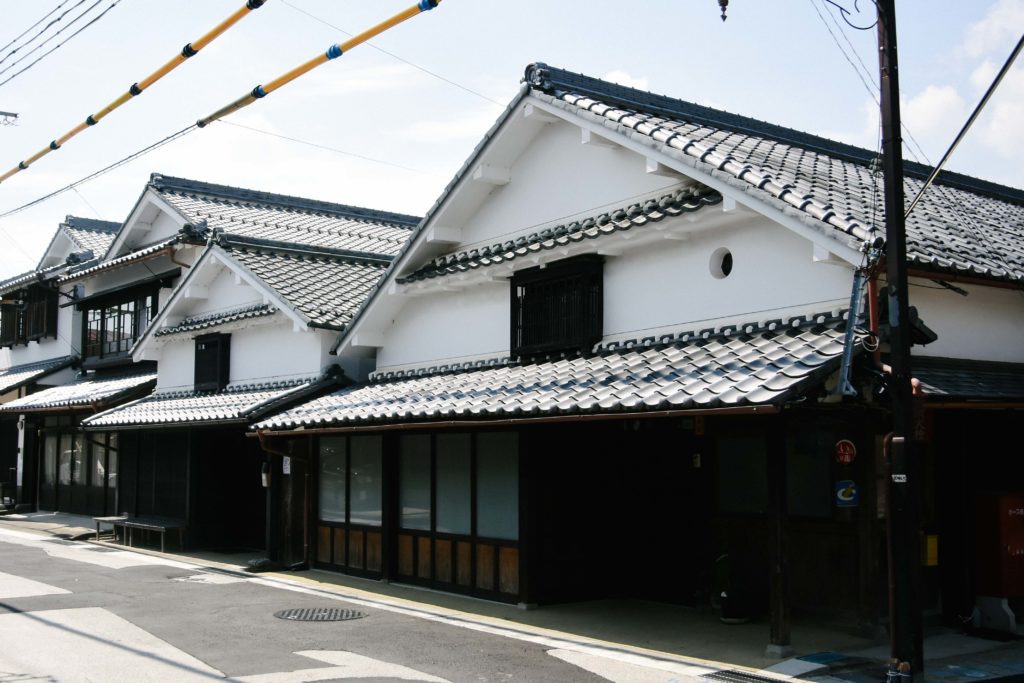 Ojiyama-yaki is Revived with the Town's Support
The Ojiyama Ceramic Factory is the only kiln preserving the history of Ojiyama-yaki today. It is run by the two masters of the kiln, Yasushi Takeuchi and Reona Kodama.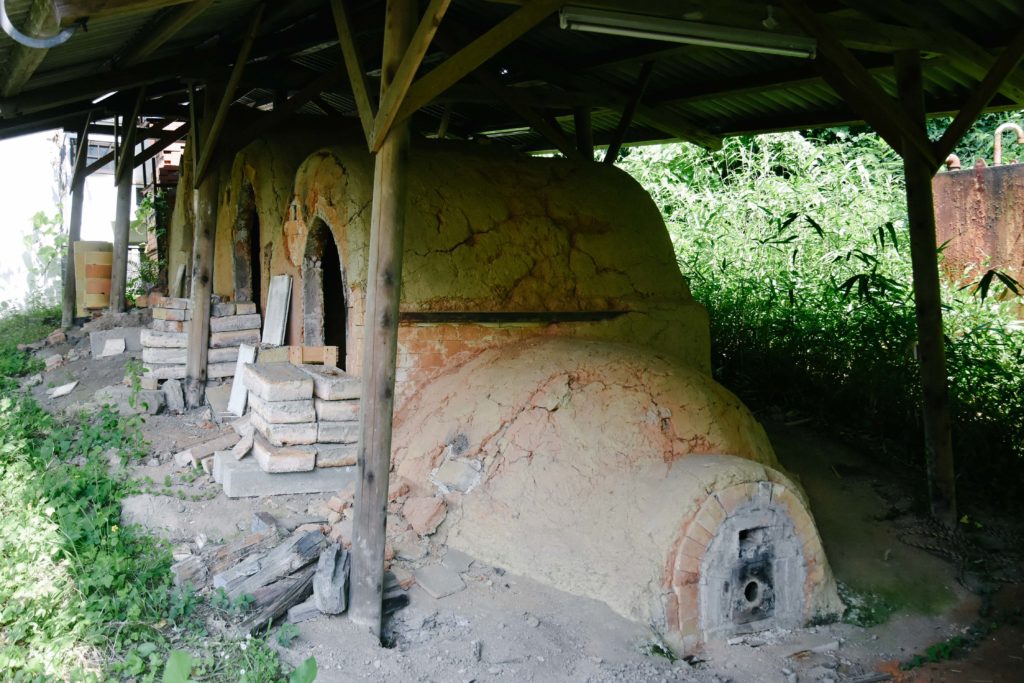 The origins of Ojiyama-yaki date back to the end of the Edo Period, around 1818 (Bunsei Period, 1818-1830).
It originated when the feudal lord of Sasayama at that time, Tadayasu Aoyama, invited a potter from Kyoto, Kamesuke Kinkodo, to open a kiln in Ojiyama.
Right from the beginning, Ojiyama-yaki gained popularity with its Chinese-style green celadon, cobalt underglaze, and "aka-e" red paintings. However, with the abolition of the clan, the fires of the kilns were extinguished in 1872.
The kiln was rebuilt in 1988 by Sasayama Town (now Tanba-Sasayama City) as a result of the voices of the locals, who wanted to pass on the culture of the region. It is managed by the With Sasayama Foundation, under the designated management of Tamba-Sasayama City.
Tamba-Sasayama City was formed in 1999 by the merger of four towns as a precursor to the "Heisei Municipal Mergers" (the merging of smaller towns during 1999-2006). One of the towns in the merger was Tanba, known for the production of Tanba-yaki, and is one of the six oldest kilns in Japan dating back to the Kamakura period. This resulted in Ojiyama-yaki being the lesser known of the two types of pottery in Tanba-Sasayama.
From Pottery Club Founder to Kiln Owner
"At first, I was told to make the exact same thing as the old molds or my master's. I didn't design anything myself, but just made dozens of identical drinking cups a day." From the day he began in the ceramic factory, Mr. Takeuchi followed his master in the kiln for 12 years.
After his master left, he continued the kiln by himself.
Mr. Takeuchi, born in Saga and raised in Osaka, had wanted to be a potter since he was in high school.
"I went to an art high school and started out with oil paintings. But compared to my peers, I felt like my work wasn't that great. So I quit painting and began making ceramics. But there weren't any classes, so I started my own pottery club." Mr. Takeuchi's face relaxed into a smile as he fondly recalls those days. Upon graduating high school, he immediately joined The Ojiyama Ceramic Factory with help from his teacher.
"I came to Sasayama without knowing a thing about Ojiyama-yaki, thinking I'd get bored of it after a couple of years. But I've always been uncomfortable with crowds and felt quite at home in this town, so I ended up staying." 28 years later, this young man grew to become an Ojiyama-yaki master craftsman.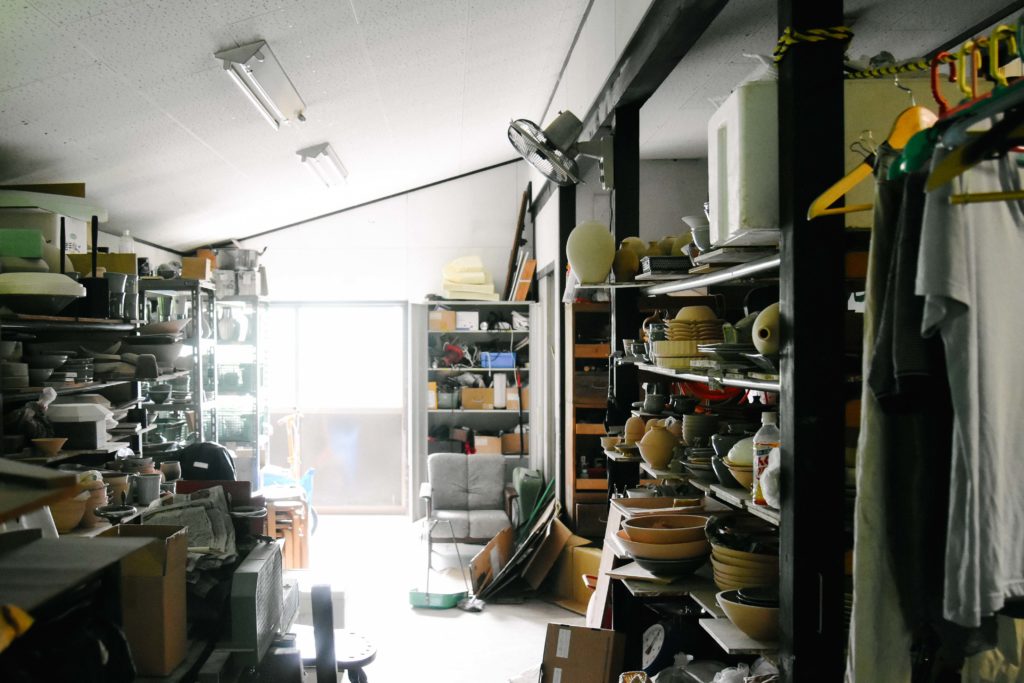 Ojiyama-yaki is a kind of porcelain that is made from crushed stone powder. It is characterized by a high, hard sound when tapped.
"With pottery, it's easy to create stories. Like, where do you source the clay from, are you firing it in a climbing kiln? Porcelain, on the other hand, is plain. There are limits to how much you can show your originality." As shades of celadon do not differ much from each other, Mr. Takeuchi felt that he had to compete with his originality as an artist. Fueled by the patience of a craftsman, trained by a master, and possessing the originality of a pottery club founder paving his own way – Mr. Takeuchi had all the tools to break through this industry.
"The definition of what counts as Ojiyama-yaki is vague, for better or worse, because so much time had passed. So, as long as my master accepted the product I came up with, I was allowed to pass it off as 'Ojiyama-yaki'. Unlike other traditional factories, I can create a completely new genre of Ojiyama-yaki."
However, there are still many who live in Sasayama that do not know about Ojiyama-yaki. Mr. Takeuchi seems a little frustrated by this.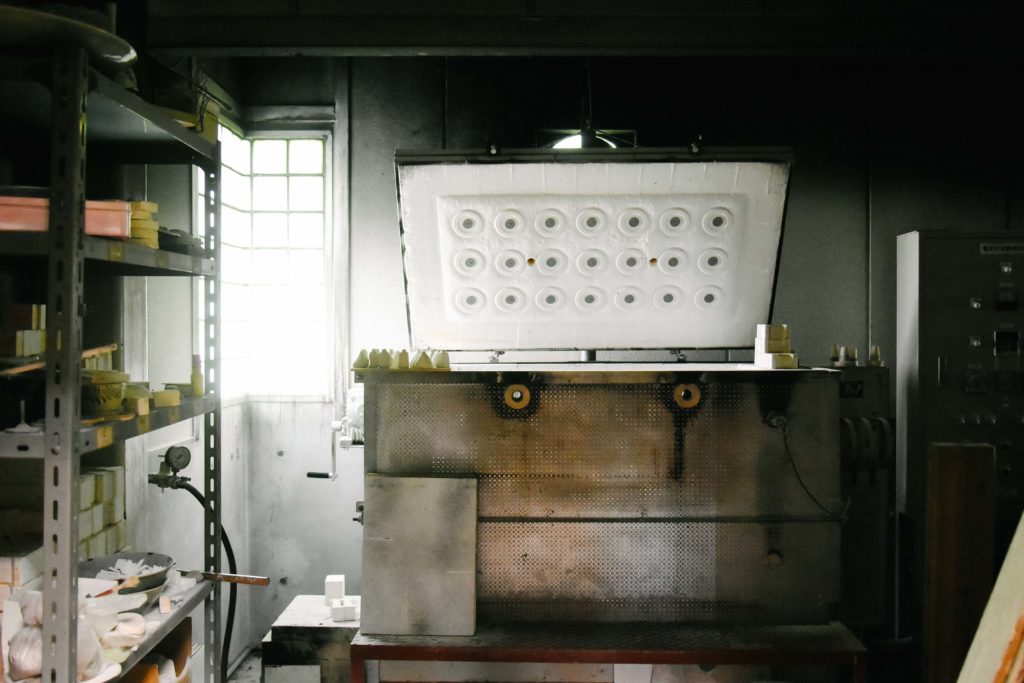 First apprentice, then designer; Renewing the Factory
After the Great Hanshin-Awaji Earthquake, Mr. Takeuchi continued firing the vessels by himself, in spite of the difficult economy and a lack of future successors.
In 2009, someone knocked on the door of The Ojiyama Ceramic Factory. It was Reona Kodama, who had studied ceramics at a school in Kyoto.
"He was the first person who wanted to work for us. He came at a time when I was about to move out of my apartment! If I couldn't work, I would've had to go back to my hometown in Ibaraki. So I hired him. We've been working together ever since."
Just like Mr. Takeuchi, Mr. Kodama diligently recreated his master's work over and over again, honing his skills until he became a full-fledged artist. He also had, in particular, a talent for painting motifs.
In 2016, Mr. Tatsuro Koyama, from the Tanba-Sasayama City Government, brought TRUNK DESIGN CEO Mr. Yasuhiro Horiuchi to The Ojiyama Ceramic Factory in an effort to promote Ojiyama-yaki. Mr. Kodama was put in charge of that project.
"I can complete a piece of pottery by myself, but I was anxious as it was the first time I was going to be working with a designer to produce something. But I was also hoping that this would be an opportunity to let people know more about Ojiyama-yaki."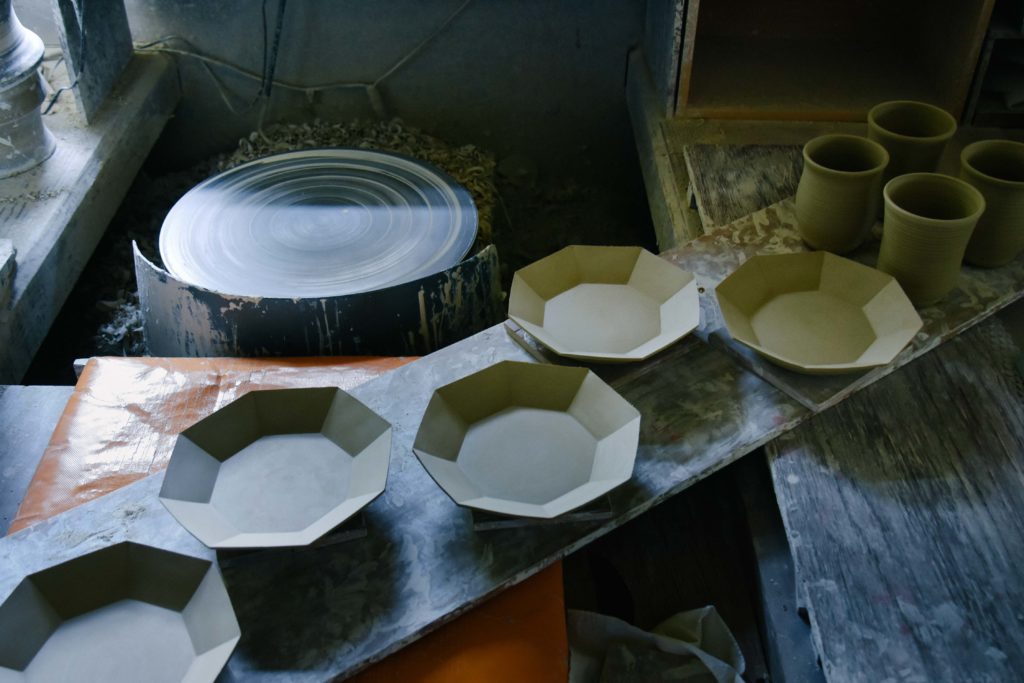 The first step was to throw out ideas, imagining all the types of Ojiyama-yaki vessels that fit modern lifestyles and dining tables. Then, whilst learning how kilns around the country present, sell, and share their products, they thought about what products currently in demand from a consumer's perspective.
The team worked to fill in gaps where the other lacked, where one focused on the technology,  the other focused on the traditional aspect.
"What about a single flower vase?"
"A general cup for any liquid would be easy to use!"
"We can broaden the uses if we remove the handle…"
They spent over a year in a back-and-forth communication like this, repeating the prototyping process.
The result was the "OJIYAMA CERAMICS" collection.

The collection contained three basic shapes: cups, bowls, and plates, each with three different designs, sizes, and colors ranging from celadon to white porcelain. The total number, including all variations, was a whopping 81 pieces.
While using the traditional methods of Ojiyama-yaki, they added a modern interpretation to create a simple Western aesthetic to fit the modern table. This sleek, modern design is a huge shift compared to what The Ojiyama Ceramic Factory usually produces. For Mr. Kodama, who specializes in painting, this was a big challenge.

"Even though we sell these pieces at The Ojiyama Ceramic Factory, they were also well received at exhibitions, and by a different demographic compared to in the past. I hope that through us, more people will be charmed by the beauty of Ojiyama-yaki, from the celadon glaze to the unique designs of the pieces."
Chasing a Goal in Secret
When asked to define Ojiyama-yaki, Mr. Takeuchi replied, "I guess you could say we are in the process of making it now."
When people look back 100 years from now, they might say that Ojiyama-yaki began with a man named Takeuchi in the 21st Century. Perhaps that is what truly defines Ojiyama-yaki.
People spend a lot of time in their homes, preparing meals, serving them on complementary tableware, and setting the table. This culture that used to be in the center of our lives is slowly fading away. Mr. Takeuchi wants to continue creating tableware to pass on this ritual of mealtimes.
If they plan on producing Ojiyama-yaki for more people, they will definitely need an extra pair of hands. Still, when asked, "Are you planning to hire a third person?", Mr. Takeuchi didn't elaborate on the details but gave a cryptic answer:
"I have my own goals, and I'm waiting until I achieve them."
After all, artisans express their thoughts in their works, not in words. We look forward to seeing the kind of dishes The Ojiyama Ceramic Factory will next bring to the table.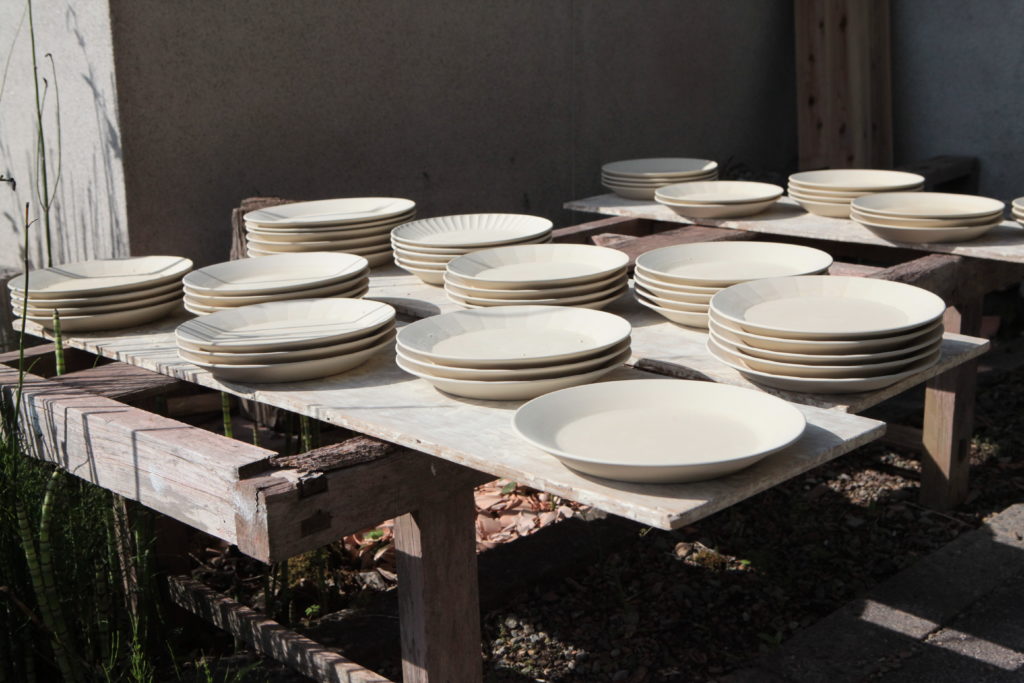 Direction: TRUNK DESIGN Inc
Editing and Photography: TRUNK DESIGN Inc
Written by Takehiko Yanase